For those who aren't aware of O2A2 Jam, it is a week-long jam where developers are limited to using only one of any asset—you can only have one background, one sprite (or a CG in place of those two elements), 1,000 or fewer words, one music track, etc. This jam's main purpose is to be anti-crunch and really make developers think about the kind of story they should tell with the restrictions they have upon them.
This year, there were over 100 entries for O2A2. There are a lot of great games out there and we highly recommend that you give the submissions the time of day, since the playtimes range from 5 to 15 minutes at most. Today, we want to highlight some of the VN Game Den team's favorites that came out of this year's jam.
Aeriel
And That Sucks
Developed by: Intergalactic Musume
Platforms: Windows, Mac, Linux (itch.io)
A very short poem about things.

Game description for And That Sucks
And That Sucks is an uplifting poem about finding hope in life's downfalls. The game offers choices in a unique way, as you interact with the poem via one choice option rather than multiple.
And That Sucks is probably my favorite game so far from O2A2 2022. The background is designed more like a CG, as it combines a character with an animated rainy pixel art background. I appreciate how uplifting the poem is and how it covers a lot of the adversities we all face in real life, yet the writer manages to reassure you that life isn't all bad.
The Candle by the Window
Developed by: flowerpirate
Tagged as: Atmospheric, Cozy, Cute, Relaxing
Platforms: Browser, Windows (itch.io)
A reflective piece about slowing down and learning from small, fleeting experiences. Connect with your plants, the moon, and the warmth from the flame of a candle.

Game description for The Candle by the Window
Candle by the Window is an atmospheric experience that's about admiring and finding enjoyment in the smaller things. The game offers a selection of choices as you explore the different areas of your desk, including the candle by the moonlit window.
There's so much to love about this game, but my favorite part is how relaxing it is to play it and the message the game relays to players, which is to slow down in life and appreciate your surroundings. I like the part where it talks about forgiving yourself for past mistakes; it's a friendly reminder to go easy on ourselves.
Desert Ruin
Developed by: Maricu
Genre: Fantasy
Platforms: Windows, Mac, Linux (itch.io)
After a sandstorm, you have to figure out the secrets of a ruin in the desert to find your way back home.

Game description for Desert Ruin
In Desert Ruin you play as Aovan, a traveler on a journey through the dunes, but things take a turn when a sandstorm disrupts your path. You uncover ancient ruins buried in the sand and must solve the mystery in order to find your way back home.
I love the desert wilderness in Desert Ruin, and I think the developer did a beautiful job with the background design and the artwork for the ruins. There's a part where the statue comes to life and the game transitions from a mystery adventure to a fantasy game, and that's what really makes this game shine.
Dara
Find My Mind
Developed by: Gaming Variety Potato
Genres: Puzzle, Horror, Point and Click, Sci-fi
Platforms: Windows, Mac, Linux (itch.io)
Content Warnings: Medical procedure, display of unhealthy behavior, little bit dark, poverty references, frequent random screen shake & fade in the last level.
A therapist is approached by a writer with an unorthodox request. Hidden Object game with a dose of mind reading.

Game description for Find My Mind
Find My Mind is different from typical O2A2 entries. They used the one CG rule to create a massive image used in several minigames. The storyline has you engaging with a suspicious therapist as a writer who has hit a word block. Each time the therapist asks you a question, you are met with a different type of hidden-object/point-and-click minigame. If successful, you are rewarded with information regarding your writing. I found this game extremely interesting, and it uses the one-asset rule in a very clever way.
Late Night Talk
Developed by: Puchi
Genre: Point and Click
Platforms: Browser, Windows, Mac (itch.io)
A short, late-night conversation with an exorcist. Who's also your boss.

Game description for Late Night Talk
Late Night Talk is a VN with point-and-click mechanics where you spend the night chatting with your boss, who happens to be an exorcist. The aesthetic of this jam entry gives the same vibe of the chunky Apple computers from the 90s. This story is very eerie, and while not inherently spooky, it makes you extremely curious about the potential ghost haunting the estate.
Long Time No Life
Developed by: CatTrigger
Genres: Comedy, Romance, Sci-fi
Platforms: Android, Browser, Windows, Mac, Linux (itch.io)
After a lifetime of research, the Resurrection Project BEARS FRUIT!

You're ALIVE once again… with some caveats.

Game description for Long Time No Life
Long Time No Life tells the story of a scientist trying to bring their deceased partner back to life after a tragic and sudden death. The story is heartfelt and has a very beautiful aesthetic. The sprite, background, audio, and visual effects all create an engaging experience that will make you feel nostalgic and yearning alongside the characters.
The Shepherd and the Arsonist
Developed by: ProteasomeC
Platforms: Windows, Mac (itch.io)
Content Warnings: Vaguely alluded violence and suicidal themes.
You have resurrected a criminal!

Game description for The Shepard and the Arsonist
The Shepherd and the Arsonist is another eerie game that I thoroughly enjoyed. Paired with beautiful art, you meet a character who gives the impression of being light, dainty, and maybe weak; however, they tell you the truth behind their demise. You play as some sort of demonic creature, or possibly the embodiment of Death, while she tells you how she ended up in your presence. The story is mysterious and the art is beautiful, both working together to pull you into a unique and charming experience.
Vivamus in Fabula
Developed by: Night Asobu
Genres: Dark Fantasy, Horror
Platforms: Windows, Mac (itch.io)
Be the last witness of a dying clan, which is cursed to have their skin and flesh slowly fall off and decide, after listening to their story, what you want to do with the one responsible for this.

Game description for Vivamus in Fabula
Vivamus in Fabula is a beautiful and tragic story with two endings. In this game, you listen to the story of a musician with a sad tale about their own trauma and their brother's mysterious fate. The art for this game is beautiful and gives the impression of looking at a medieval painting. The UI perfectly matches the painterly aesthetic and the music is extremely fitting for the story's tone.
Kristi
Excello
Developed by: MintGlow
Platforms: Android, Browser, Windows, Mac, Linux (itch.io)
A certain school system shown through a private bird school's standards. And a jerk.

What is learning, really?

Game description for Excello
In Excello, you play Fritz, who has to take a series of tests in order to graduate. His grade at the start of the game is a B, which should be a passing grade, but apparently it isn't enough for the world we're in. So, Fritz, determined to graduate, can cheat on his tests or take his tests with integrity.
Throughout the game, Fritz will make little comments such as "I couldn't schedule this test for another time even though I was sick when they went over the material for it" or "None of this material is stuff I'm going to use in real life." He echoes a lot of frustrations that students, both current and past, have said. Excello is a well-done game that commentates on the education system and that the only thing that only matters at the end of the day is the grade, not what you learned.
It's Not Me
Developed by: Kaffein_SS
Genres: Point and Click, Psychological Horror
Platforms: Windows, Linux, Mac (itch.io)
Short point and click Horror vn about a girl trapped in an abnormal corridor full of doors.

Game description for It's Not Me
It's Not Me is a short point-and-click horror game about exploring a very long corridor with 100 doors in it, hoping to find a way out. While there's very little dialogue in this game, when it is used, it as well as the art are very effective at creating an unsettling atmosphere.
TXXX
Developed by: HiroRCK
Genres: Supernatural, Romance
Platforms: Browser, Windows, Linux, Mac (itch.io)
You're running out of time. It was just a stop on your way, why'd you have to complicate things? You shouldn't have stayed in the first place…

Game description for TXXX
You play as a time traveler who has found himself in a relationship with a young man named Q. However, as you two are celebrating each other's company, you tell him you have to leave to go back to your previous world. Q is obviously hurt by this, because you came to this world, made him fall in love with you, and now you're just leaving him for good. TXXX is an interesting game about time travel and how our selfish actions can impact those around us.
Natasha
The Siren's Song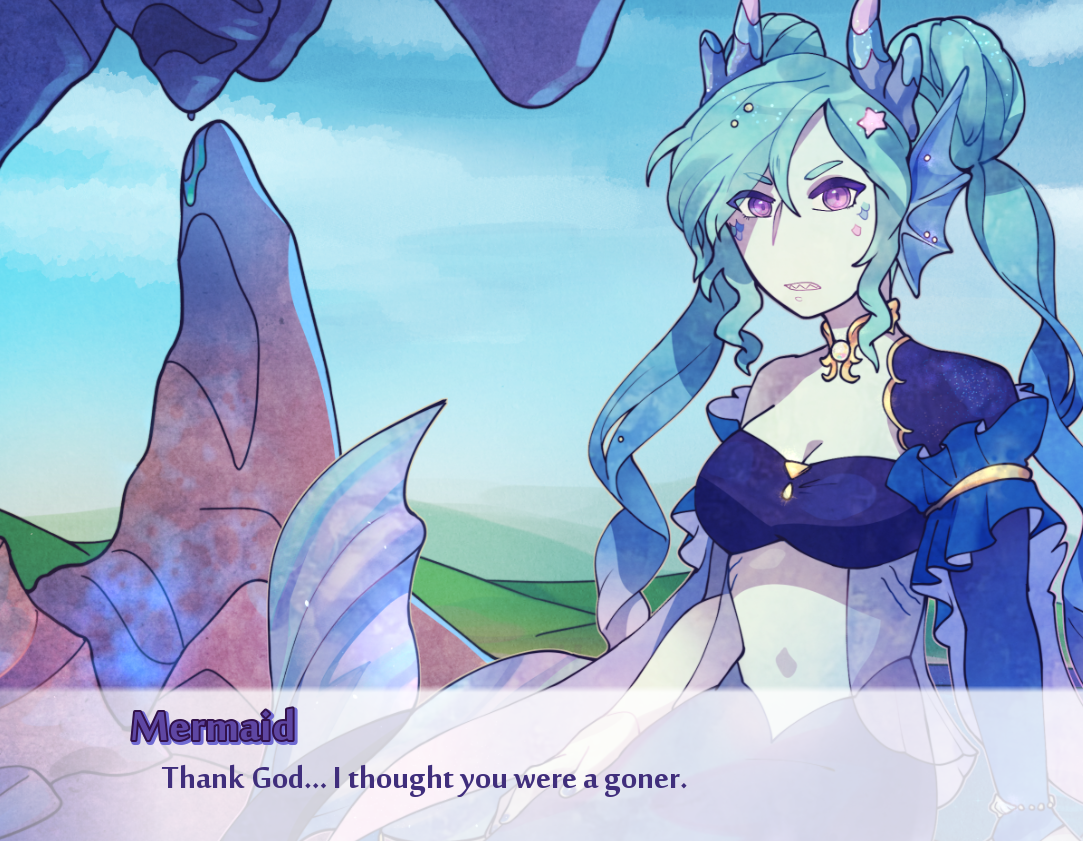 Developed by: Judithan
Genres: Fantasy, Romance
Platforms: Windows, Mac (itch.io)
A sapphic love story about a hopeless romantic and a mermaid.

Game description for The Siren's Song
Starting off with something cute, The Siren's Song is a heartwarming story about a woman who nearly drowns and is rescued by a mermaid. The MC soon falls in love with the mermaid, named Re'ala, and returns to where they met to try to catch another glimpse of her. Initially, Re'ala is a bit standoffish, but her heart is quickly thawed. It's a sweet, bite-sized bit of romance that I enjoyed a lot.
I love the art in this VN, and Re'ala's design in particular. While the story is complete on its own, it also makes me wish there was an epilogue or sequel where I could see how they end up after the ending!
Your Ghost in the Machine
Genres: Horror, Sci-fi
Platforms: Windows, Mac, Linux (itch.io)
You are Karel, a researcher. Your colleague Josef is working on an algorithm to transfer a human brain into a machine, but he is suffering from a terminal illness. If he completes his research will he be able to cheat death?

Game description for Your Ghost in the Machine
In Your Ghost in the Machine, you play as a researcher forced to confront mortality and whether or not a human mind can inhabit a machine. After the death of his colleague Josef, Karel must attempt to activate the automaton which Josef had uploaded his brain into, to see if it has allowed Josef to overcome his body's terminal illness.
Your Ghost in the Machine is one of the handful of O2A2 entries that manages to include gameplay—in this case, navigating through the virtual maze in the automaton, sort of similar to a dungeon crawler without the dungeon (or the enemies). It's a small game, but manages to enhance the feeling of Karel actually going into the machine. Combined with the excellent art, this game ends up feeling surprisingly polished for something from such a minimalist game jam.
LIMERENCE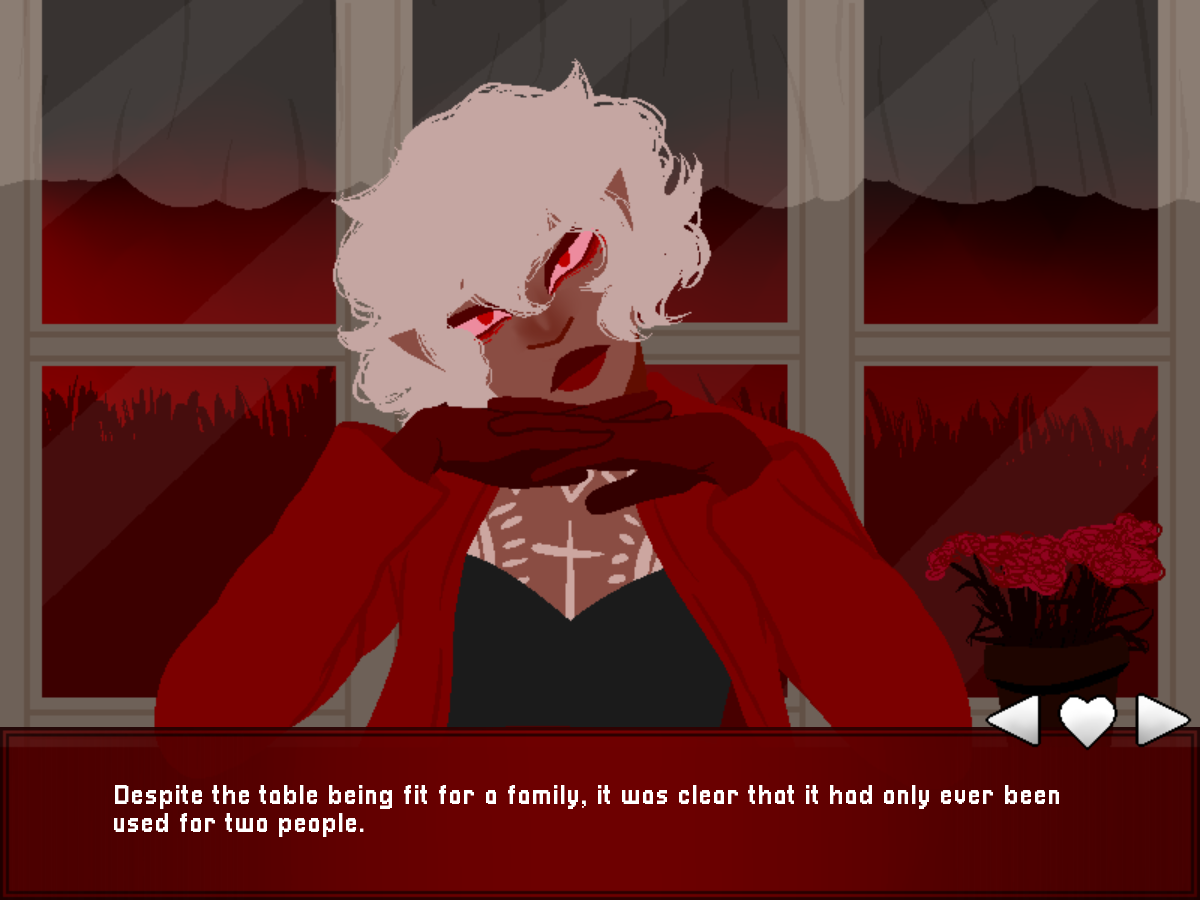 Developed by: catsket
Genre: Horror
Platforms: Windows, Mac, Linux (itch.io)
Content Warnings: Contains themes of violence, kidnapping, suicide, and obsession.
a short story of a captive and a captor chatting over dinner. not so much horror but more a tense, uneasy atmosphere and an imbalance of power.

Game description for LIMERENCE
It might not be so surprising that a lot of O2A2 entries go for dark themes; they're an easy way to grab attention and stay memorable past the games' necessarily short runtime. LIMERENCE packs a lot of unease in a small package, centering around a victim's "dinner" with the person who has kidnapped them. The MC's captor is obsessed with them in a way reminiscent of—but not quite—a yandere, and it's immediately clear that the MC is not likely to escape.
Obviously, it's the kind of story that isn't for everyone, but if you find yourself in the mood for a small bit of concentrated hopelessness, LIMERENCE is one that will stick its claws into you and stay with you. I love the unique art style and character design too, which really help this game stick out from the rest of the pack.
John
O2A2 is one of my favorite VN jams because it presents an opportunity for both new developers and experienced ones alike:
For first time developers, it gives them the opportunity to put something out there with a small scope and timeline to get a taste of what it's like to release a game.
For experienced developers, it pushes their creativity by placing unique limits on what they can do.
Cultivating Happiness
Developed by: ProfessorOneira
Genres: Comedy, Psychological Horror
Platforms: Browser, Windows, Mac, Linux (itch.io)
As you watch TV, an odd commercial comes on, and it really speaks to you. Like, directly.

Game description for Cultivating Happiness
Cultivating Happiness was a submission that caught my eye from first-time VN developer ProfessorOneira. The game originally caught my eye because they created it live on their Twitch stream, which is something we don't see very often with VN jams.
Cultivating Happiness starts off with an invitation to a supposed utopia that sounds too good to be true—but through an ordinary conversation with your television you may start to realize just how untrue it is. This game has a great story, voice acting, and sprite art—all of which were made by a single first-time developer!
Homesick
Developed by: XamG0, Sven de Wit, Linda Effinger, Tim Wondergem
Genre: Point and Click
Platforms: Browser, Windows, Mac (itch.io)
Doctor Sonne Brasch has been traveling on this train for a long time. Happy to finally have someone to talk to, he is eager to talk about any of the things scattered around the train cart, passing the time until the train's next station.

Game description for Homesick
In Homesick, you take a short journey with Doctor Sonne Brasch and ask him questions about the various items he has strewn around the cabin.
The art was what originally pulled me into Homesick—it's absolutely fantastic! I really enjoyed the point-and-click elements and piecing together more about the emotional story of my fellow passenger as we made our way to the next destination—though maybe I'd take his suggestion and wait for a different stop.
Long Time No Life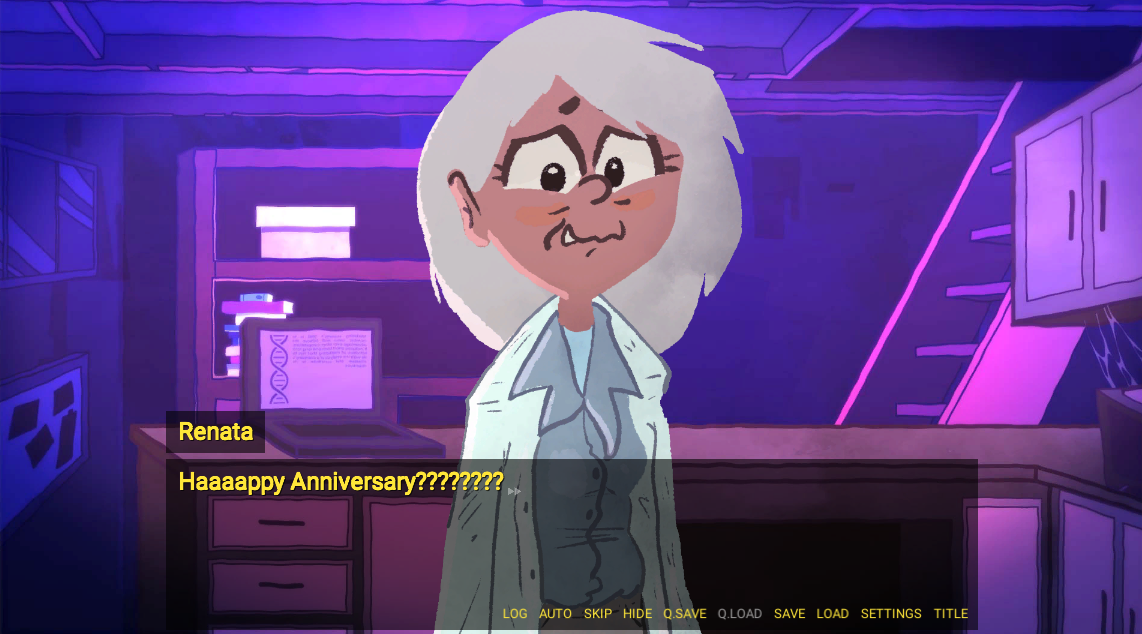 In Long Time No Life, time passes quickly as you get short glimpses into the life of someone you left behind who is desperately trying to pull you back from the void.
O2A2 consistently delivers games with a strong emotional punch in a small package. This year, Long Time No Life was the game that hit hardest for me personally. I was incredibly impressed by the story that CatTrigger created for this game and I also really enjoyed the art that they paired with that story.
My Favorite Guard
Developed by: Appel
Genre: Sci-Fi
Platforms: Browser, Windows, Linux, Mac (itch.io)
Content Warnings: Briefly mentions grief and death.
A widescale attack on the mothership of the Gemini has forced Propus, a guard to the prince of the Gemini, to evacuate with the young prince Castor. Castor, however, is mad Propus left behind his favorite guard and has locked him in the maintenance room of the escape pod with no way to get out.

Game description for My Favorite Guard
Whenever there's a game jam, I'm always on the lookout for something different. There were a few games that met that criteria during this year's O2A2, but My Favorite Guard was my favorite of the batch.
It tells the tragic story of a second-favorite guard who had to make a quick and difficult decision that left a young prince without his first-favorite guard. I definitely enjoyed the story that Appel created, but the art and UI choices really sold this game for me—I enjoyed the unique pixel art style of the single background & sprite as well as the use of negative space to the left of the locked door as the dialogue box.