With the Spooktober Game Jam entries all submitted, the VN Game Den team wanted to discuss some of our favorite games from the Spooktober 4th Annual Visual Novel Jam 2022!
There were so many titles submitted this year, and after a lot of time, our team played through a bunch and selected their top favorite entries. This year, both John and Kristi were unable to partake in our team article because they are judges and cannot talk about their favorites yet.
Without further ado, here are our staff's favorite picks from this year's Spooktober!
Aeriel's Top Spooktober Games
The Cryptic Caper by Skelefun Collective
Platforms: Browser, Windows (itch.io)
I had a blast reading The Cryptic Caper, a story that follows a group of monsters on a mission to infiltrate Area 51. There's the leader of the gang, Bigfoot; Mothman, AKA the guy with the wacky ideas; a frog that always seems to have a pair of grenades; and a perpetually terrified ghost-like creature that's visually just legs. As you can imagine from their descriptions, the dialogue between these characters is pretty amusing as they discuss their top secret matters of operation: stealing their government files. Halloween fits perfectly into the plot, since the group can more easily parade around in public as monsters, because the staff at Area 51, in this world at least, are all wearing costumes. I just about toppled over with laughter when their paths crossed with two men that work at the facility. Overall, this is a very cute story with cartoon-like sprites and plenty of hilarious scenes.
Organized Crime by ClockTown
Platforms: Windows, Mac, Linux (itch.io)
Organized Crime is an interactive visual novel where you start off by reading the resumes of animals that are looking to reunite with their owners in the Underworld, and it's up to you to decide what kind of pets you want this world to welcome. Accepting applications from rotten pets makes the world more chaotic, and accepting well-behaved pets will make the Underworld more pleasant.
I am not joking when I say I laughed hysterically playing this game. The descriptions of a lot of the animals were downright hilarious. I had a ball reading through all of them and deciding who was welcome in my world. A cat that screams uncontrollably in the morning, a bunny that kicks people, a koala bear that opens chip bags and crushes the chips, the list goes on. This game is very unique and very adorable in a dark and twisted kind of way and I loved it!
Wilting Regrets by Kitome Games
Platforms: Windows, Mac (itch.io)
Wilting Regrets initially piqued my interest because of the unique title, but once I checked out the game's page, I was very impressed by the art style. The spirits are brilliantly designed, so when I saw the screenshots, I just had to play this game. I was not disappointed: the story is fascinating. There's small descriptive and visual details, like the 'white wisp' spirits falling from the sky and down into the Underworld, and it's details like these that give the game a unique charm. The story is phenomenal, bridging the world as we know it with the Underworld. It's also worth noting that a lot of VNs I've played have a protagonist with amnesia, but Wilting Regrets flips the switch and let us aid our fellow love interests in recovering their memories. This visual novel has a mixture of spooky, science fantasy, and even a little bit of comedic relief. It's all of these elements that made me fall in love with this game.
Anna's Top Spooktober Games
Parasite in Love by Night Asobu
Platforms: Windows, Mac, Linux (itch.io)
Parasite in Love by Night Asobu is a captivating and eerie tale that I couldn't turn away from. I admit I was drawn in by the kind eyes of the man in the game's title image. His soft blue skin, pale white hair, and piercing bright eyes are captivating. He looks completely sympathetic and loving. However, when you begin playing the game, you realize this is not the case at all. Looks can certainly be deceiving. I adored Parasite in Love because of the unique concept and stunning art. The developers did an amazing job setting up a cryptic ambiance that grows more and more suspenseful as time goes on. It left a pit in my stomach as I struggled with which approach to take with my newfound parasite buddy, but in an almost inviting way, as I couldn't click away until I had completed the game. The visuals and animation make the story truly come alive for me and I think this was a wonderful submission to the jam.
cinderAI by opheliaveu
Platforms: Windows, Mac (itch.io)
I can't lie, cinderAI by opheliaveu drew me in because of its cute art style. I was curious to see how this related to Spooktober's prompt. There certainly can't be anything spooky or supernatural about an AI chatbot that you can spend some time talking to… right? Wrong. cinderAI delivered a twist that left me feeling uneasy as I played in the darkness of my bedroom. I swear I even looked over my shoulder as I clicked through some of the dialogue. Without giving too much of the game's hook away, I can say cinderAI is frightfully engaging and even a little bit unsettling—in the best way possible. I only wish my playthrough was longer so I could spend more time with Cinder.
Vivica's Heart by Cerise Makes
Platforms: Windows, Mac, Linux (itch.io)
Vivica's Heart by Cerise tells a hauntingly mysterious tale. Like the protagonist, you have no idea what is going on and have to choose what you want to believe and what actions you should take. Do you follow your instructions, or dare to deviate? There are several endings to be unlocked, and they are shown to the player using a key system which unlocks a gem on a necklace as you complete certain choices. It is an innovative and elegant way to help players navigate the story and encourages them to play again to get the full picture. I really like this feature a lot. Beyond that, the story is told quite well and in a way that leaves you feeling like you're in the game yourself. I think Vivica's Heart is a visually beautiful game as well, with gorgeous sprite, background, CG and UI art! Plus, the partial voice acting is really good. Definitely check this one out.
Courtney's Top Spooktober Games
waterborne:immersion by lazytiger
Platforms: Windows, Mac, Linux (itch.io)
I really enjoyed last year's Waterborne entry and was very excited to see waterborne:immersion listed for this year's Spooktober jam, so naturally I had to play it.
waterborne:immersion starts off with a group of friends excited to go out to a mysterious location, and quickly cuts to a later date with the main character Alex alone, not knowing where they are. Alex soon learns they are in the Bliss Room and has some options to either consume or not consume water, along with a few puzzles along the way.
When starting the game, it had me asking so many questions. Does this game take place at the same time as Waterborne? Is it a prequel of sorts? Does it take place after? Honestly, some of my questions weren't completely answered (what was with the water?), and I prefer it that way. Keeping that core mystery unsolved makes me want to know more and more about this setting.
I enjoyed everything about waterborne:immersion. The character design is beautiful, and the writing is wonderful. Not to mention, the puzzles add a bit more immersion to the game, giving me an opportunity to really help Alex.
lazytiger kept the same mysterious tone from Waterborne and kicked it up a notch by adding the mystery of the Curator and the Bliss Room (not to mention that ending!). All in all, I enjoyed this sequel so much, and I'm genuinely hoping there will be more in the universe.
Spectral Phantasy by Starfait
Platforms: Windows, Mac, Linux (itch.io)
Spectral Phantasy has a premise that really intrigued me: being trapped in a mansion with a cute ghost boy. Naturally, I had to give Spectral Phantasy a go, and it was such a cute story.
Cyrus is the cute ghost boy who can't leave the mansion he died in, and the protagonist goes there instead of staying in the woods when their car breaks down. Knowing the legend of the house, they weren't deterred but were acutely aware that it could be haunted.
Upon meeting Cyrus, you learn that he's not a scary ghost, but lonely. People only ever come to visit him when they are on a dare or looking to be scared, and naturally, he fills the ghost persona of scaring them. As things progress with Cyrus, you can play hide and seek and learn about who he was as a person. All shedding light on the fact that he's not a ghost to be feared but a friend.
The music and writing in Spectral Phantasy are what really drew me in at the beginning. It sets a very chilling vibe for the story where I kind of expected Cyrus to be scary and the protagonist to run screaming from the mansion, though I'm very glad it turned out to be a cute story rather than a heavily spooky one. The sprite and background design are really adorable with the premise being true, Cyrus is a cute ghost boy.
Hallow Masquerade by Studio Suzumi
Platforms: Browser, Windows, Linux (itch.io)
Hallow Masquerade starts off with the main character being invited to a masquerade on Halloween night when a flying bat appears with an envelope. With nothing else to do, the protagonist (who later you can name) decides to go and meets five interesting individuals outside the Dark Castle, named Greer, Rune, Alli, Rowan, and Grey.
Before you can attempt to go in, you must mingle with these five individuals, where I learned that this Halloween masquerade might be a bit more supernatural than I thought.
While Hallow Masquerade is a bit short, ending with a "TO BE CONTINUED" once you enter the party, I found myself wanting to play more and learn about these five unique individuals, along with the mysterious party hosts. It is a spooky take on a dating sim that could have dire consequences if answered wrong, which left me wanting more.
Visually, Hallow Masquerade is delightful. The background for the Dark Castle exterior was so gorgeous I found myself wishing the artist had prints available because it was so beautiful. The character design is also unique and shows off the suitors in their different costumed attire that shows a bit of their personalities.
OhMyWitch! by rice love coffee
Platforms: Windows, Mac, Linux (itch.io)
OhMyWitch! is an incredibly playful visual novel that has some varyingly spooky elements. It starts off with the main character named Una (or a custom name), dressed in a witch costume, being excited to join the Halloween Parade. Soon she is kidnapped by "the black mourner," a deadly monster who goes by the name of Mauro. Supposedly, Una is his witch who can remove his curse, which is news to her.
While playing OhMyWitch!, I noticed how many cute aspects the developer intertwined into this story. There are some delightful instances, like when Una accidentally turns Mauro into a frog, and when they go out and find different types of fun-looking food that Una can't help but devour.
The conversations back and forth between Una and Mauro are very adorable and show a blossoming friendship. The music fits the playful theme, as do the character sprites, backgrounds, and font. Overall, it has an uplifting atmosphere that is very polished and fun to play leading up to Halloween.
Unfortunately, the story is not yet complete, with a "TO BE CONTINUED…" just as Una finishes a conversation with Mauro's vampire friend Elvis. I really want to play more and see where the story goes regarding Mauro's curse and whether or not Una can help him or turn him into a frog (again).
VVVVV by Lucy Choin and Tanaw
Platforms: Browser, Windows (itch.io)
VVVVV is such a lovely take on a ghost story. I went in thinking it was going to get really scary with the mysterious occurrences and Airpod disappearances taking place around the protagonist Drogo's house, but was so pleasantly surprised by how heartwarming the game is. I was on the edge of my seat the entire playthrough waiting for a jumpscare or other spooky actions, and I'm honestly glad it didn't happen.
VVVVV turns out to be a heartwarming tale about a ghost nicknamed Vivi who, instead of maliciously trying to hurt the protagonist, is trying to communicate with Drogo to read their Nana's letter and not feel guilt for life getting away from them. I feel like this is a sentiment that rings true; life sometimes does get away from us when we're busy or preoccupied with other things.
My only wish for VVVVV is that it had a skip button, because getting every ending was my goal, and having to click through it all three times was a bit exhausting. Otherwise, the character design, UI, and background are all really thematic and fit well with the feeling the game gives off.
VVVVV is such a spooky cozy game, and that's something I didn't expect to find.
Dara's Top Spooktober Games
The Madness of [REDACTED] by Maricu
Platforms: Windows, Mac, Linux (itch.io)
The Madness of [REDACTED] is exactly the type of game that I look forward to seeing come out of game jams. The game has an extremely cohesive aesthetic that brings charm out of minimalism while still having depth. The game also uses several puzzle and point-and-click mechanics that I have not experienced often in the visual novel space. Overall, this game is a great entry that I can not recommend enough.
OFFAL by Tan, RatSalad, and Sher
Platforms: Windows, Mac, Linux (itch.io)
OFFAL starts off as what seems to be a cute Halloween game of friends in a group chat talking about an upcoming party and some of the anxieties that follow with friend groups. But just when you think the game is about to have its happy ending, everything goes wrong. The game's twist is immaculate and had me gasping out loud at my computer. On top of the story, the game has a charming aesthetic and extremely unique UI that replicate the vibes of group chats perfectly.
Confessions Amongst the Poppies by April "Izzy" Schmidt
Platforms: Windows, Mac (itch.io)
This game had me hooked from start to finish. Immediately, you are thrown into a world that has deep and fleshed-out lore without shoving it in your face. The point-and-click mechanics mixed with the game's overall aesthetic combine together for an extremely enjoyable experience. As a fan of this team's Spooktober game last year, I am continuously excited to see what the team works up next.
Elevator Hitch by RachelDrawsThis, Ekrix, and BellKalengar
Platforms: Windows, Mac (itch.io)
What originally drew me to Elevator Hitch was the sprites being reminiscent of 90s-era anime aesthetics, but the point-and-click puzzles and surreal horror story kept me glued to the screen. This game is essentially a horror escape room where sometimes failing is the reward. The game has an insane number of CGs and endings that will keep you coming back for more.
Natasha's Top Spooktober Games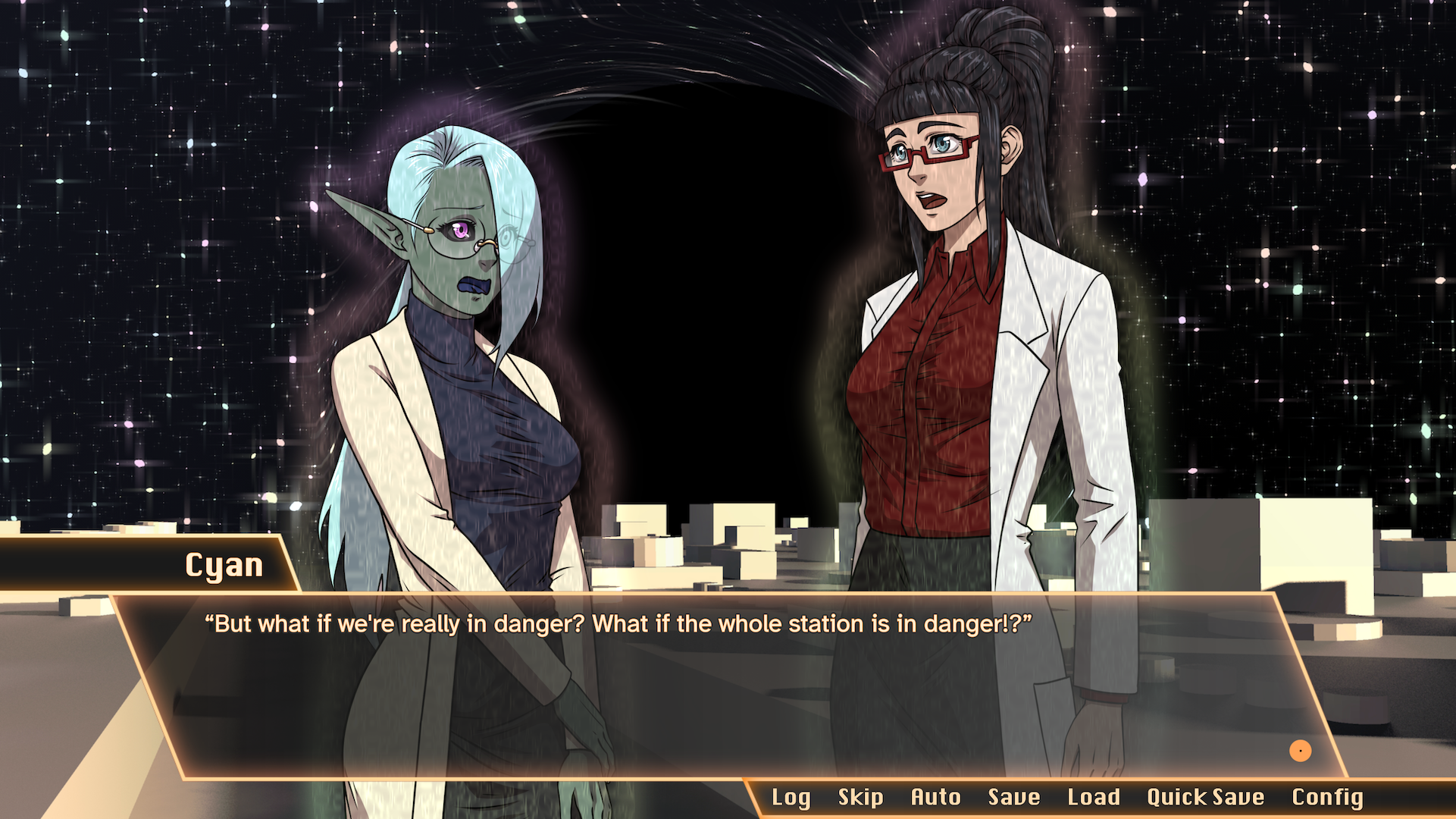 Me, the Singularity by supercircuit
Platforms: Windows, Mac, Linux (itch.io)
In outer space, can the ghosts hear you scream?
Me, the Singularity caught my attention by sheer virtue of being sci-fi horror yuri—an unfortunately uncommon combination—and held it with its polished art and extremely likeable characters. This game follows Terra, a scientist studying black holes, who begins to see increasingly strange things happen at her post, forcing her to come to grips with the idea that the space station she's on might well be haunted. Both Terra and the two love interests, Cyan and Casimir, are extremely fun to watch interact with each other when things aren't in mortal peril mode. Overall, it makes for an exciting combination of horror and romance.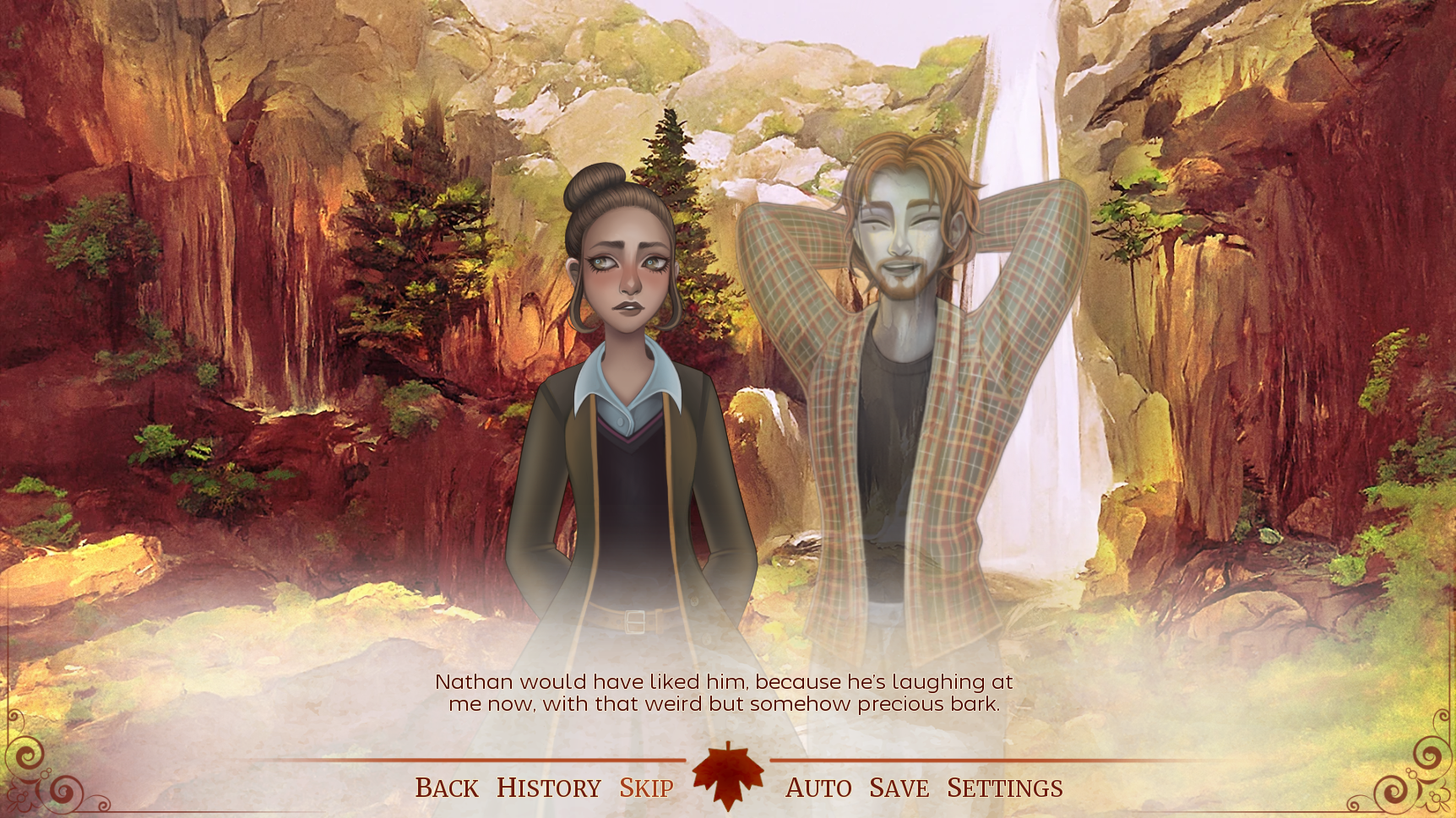 Autumn Spirit by Synstoria
Platforms: Windows, Mac, Linux, Android (itch.io)
Rather than going a straightforward horror route, or taking the theme more literally and creating a Halloween-themed story in a different genre, Autumn Spirit offers up a looser interpretation of the jam's theme: the love interest is a ghost, but there are no scares here, and while the story obviously takes place during fall, Halloween is not a major factor in the plot. The game benefits from these liberties, offering up a low-key, melancholy-drenched otome game with a beautifully cohesive aesthetic. Featuring scenes that are both happy and bittersweet, plus gentle bickering between the heroine and her ghostly beau, this is a game that covers a large breadth of emotions without ever feeling overbearing.
L.S.D.s – AKA Love-Sucking Demons by Vimi
Platforms: Windows, Mac, Linux (itch.io)
With an instantly eye-catching style and impeccable sense of aesthetic, L.S.D.s is definitely one of the most unique entries into the jam. That isn't limited to just its appearance, though; alongside the surface-level story beats of a 1960s FBI agent investigating the aliens targeting his girlfriend, this story is also steeped in queer history, with the tension between Agent Fox's job to investigate "Un-American" activities and his relationships between him, his trans girlfriend Jane, and other queer community members eventually coming to a head with the Stonewall riots. While this is the shortest of the games I've recommended here, it packs a lot into that short period of time, to the point where I was genuinely surprised so little time had passed.
Crowing by Horse and omelette
Platforms: Windows, Mac, Linux (itch.io)
Crowing charmed me immediately with its art style. Don't be fooled, though; the plot features life-and-death situations and the potential for war. The protagonist Pietro is a scout who has been tasked by the king of his murder to deliver messages to the leaders of other crow groups; how Pietro handles this mission will determine not just his own fate but the fates of all the other crows. This game features expressive art and animations, full voice acting, nine different endings, and (optional) minigames, making it extremely polished for a jam game and generally just a delight to play.